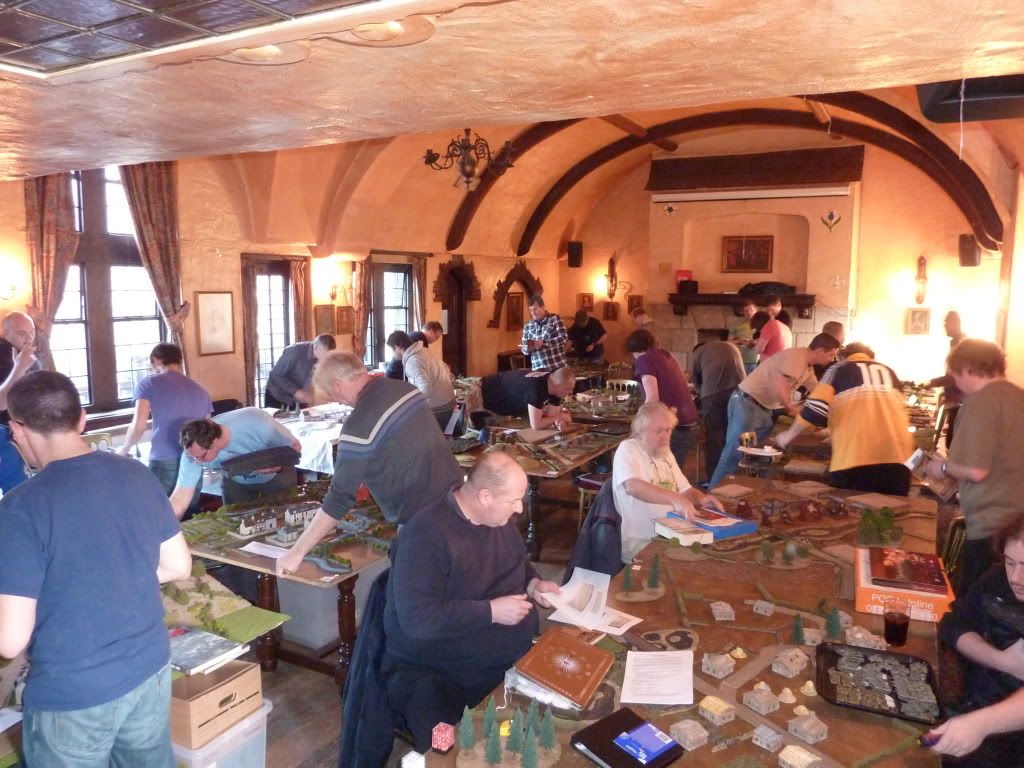 Well this was a blast, 30 FoW players in one place for 5 games of FoW, awsome sauce all over.
For my 1st FoW tournament I think I held up OK scoring 1W-2D-2L, unfortunately in FoW when you get a draw you and your opponent score as if you have both lost, now this does encourage playing for the win so isn't as big a drag as you would imagine.
My first game was against Steve Charlton and his Hitler Jugen Panthers, accompanied by Barkman. Steve is considered the best player in the UK, so I learnt a few lessons loosing 20-1 in the process, though in the post game dissection the only major mistake Steve felt I made was my reserves choices.
(Steve wins every tournament he enters and won this one by a clear 20 points.)
I then faced Simon Oakleys Fallschirmjager, the only Coy. I have faced with the army I took. (7th AD, all tanks.) Remembering I hadn't played aggresivly enough against Scott I went on the all out offensive, the game ended with a load of assaults that couldn't quite shift the dug in fearless guys and hence a draw 9-8 in my favour.
Phil Chappels Panzer Coy. next, with me attacking. I have never seen so many 6's to hit, ever! It took Phil 2 turns of shooting to reduce my army to a point where I couldn't continue, it was just one of thse games. Another 20-1 loss.
We then went out for an all you can eat curry and a few beers, I then in an alarming display of 'sensible head' got to bed about 2230.
Alan Huyton was my next opponent with his foot slogging Finns, I don't think Alan realised how fast my tanks actually are for I was holding 1 objectve at turn 3, unfortunately I had to wait until turn 6 to win, so it was amatter of dealing with Alans AT assets and awaiting reinforcements. Everything went to plan and a 20-1 victory with it.
Andy Alans Grenadiers for my final game, again my speed had Alan on the back foot, but with dug in pioneers on the objective it was going to be hard work. A church soon became the scene of a very bloody fight, with Cromwells crashing through walls and pews to get to the men sheltering inside, I finally shifted the pioneers but on measuring Alan was just contesting the objective. 6-5 to me.
So after 5 games I netted 37/100 points and 25/30 overall and 12/15 allies. The gameplay itself was fantastic with no one trying to win by catching anyone out. (Though Alans 15cm Infantry guns came as a shock.) The whole atmosphere was very 'Gentlemanly' and if a reflection of the FoW community as a whole I shall definately be travelling to more tournaments and Brighton Bash in 2013 is a must do.
The TO took a few pictures and they can be found
here.